Welcome to the  Create Scrapbooks "Get It Organized" Series. I am tackling the art of keeping organized and the use of functional space to make my scrapbooking easier and more enjoyable – and ultimately getting things created and completed easier with less time trying to find what I need.
The first topic I decided to focus on is my ever-growing collection of page protectors and pocket pages. I created this simple organization system that has really helped me refocus my energy back to creating instead of trying to figure out which protector I need to use on which layout and keep an inventory on what I have in my stash to use. I have broken down the steps below with photos and step-by-step instructions on this organization project to take you from start to finish below. By focusing on smaller sections of your stash it really IS easy to start and finish a smaller project and you'll see results fast… I promise.
Want to LOVE your supplies, storage solutions, and creative space again? I Â hope you'll join me and I will help you get organized during this series!
If you have been documenting and incorporating life via a Project Life style album for several years – or are just starting your Project Life journey – you will find you need a good supply of page protectors for your albums and a good way to store and access them while working on your scrapbook.
As I scrapbook throughout the year I continually find the need to plan pages around photo sizes, page protector sizes, and pocket pages… I have found myself searching for the right sizes to print my photos, the correct orientation, and I have found that having easy access and an organized system is key to my positive workflow instead of searching through a stash of odd sized protectors.
Problem: There are so many sizes, varieties and manufacturers of page protectors available now for Project Life (and scrapbooking in general). While years back during the initial years of Project Life – via the great Becky Higgins – there were only a few style of page protectors, and now there are so many (and multiple companies selling them), along with variety packs to boot! This is fantastic, however, as you know it just adds MORE variety and a bigger number of options you have at your fingertips. Choices can be exactly what we need, but it can also get you sidetracked if you can't find what you need or know what you have in your stash.
While multiple styles of protectors and pocket pages is a huge plus in my book, it seems a bit harder to tackle organization of the page protectors if you don' t have a good organization system. These are things I was running into as issues:
Knowing what styles of page protectors I had on hand and how many I had of each – so I didn't run out of my favorites (or purchase too many duplicates).
Planning for what projects I have started (and will be starting this year that I have planned), and how many of each style I may need in the future.
The best way of storing them so that I can have easy access, be able to SEE what I have easily, and the exact sizes of each style so I can print and organize my layouts.
Here's  what I did to get myself organized this week regarding my page protectors. I even designed some free printables (below) for you to give you a creative jumpstart and show you my solution to storage of page protectors.
Here's my step-by-step solution to get your page protectors organized for your Project Life scrapbooking as well as any other projects requiring page protectors.
You can break it down even further if needed, but try to tackle it in the next week. You'll be so proud of yourself – and it will be one less project on your to-do list.
To start – you'll need some room on the floor, table, etc. to work, your stash of pocket and page protectors, a pen (AC Project Life Slick Writers are my favorite!) and some post-it note tabs or paper and scissors. That's it. Later after reviewing your stash, you'll need a bin (in my case) or a binder (if you prefer this method).
Step 1: Find ALL of your page protectors that you own. Yes, all of them… make sure you check each new/empty album as those can also house a few new protectors that are supplied with the album, and all your stash of crafting/scrapbooking supplies. Tip – If you find you have several different types that are NOT 3-ringed (for example, post-bound scrapbook style) you can put those in a separate pile to organize later if needed. We are going to focus on the 3-ringed style this organizational round.
 Clear off a large enough space to make several piles – use the floor, table, etc. This won't be a long project, so the key is to just get started. This is to be able to SEE what you have all in one spot and decide what type of bin or binder you want to store the page protectors in to store them ALL in. I decided on some bins as I have a lot of pocket and page protectors. I'll go into detail below on this. It's imperative to really see what you have purchased, collected, and get a good idea of how many of each before you jump into an actual storage solution.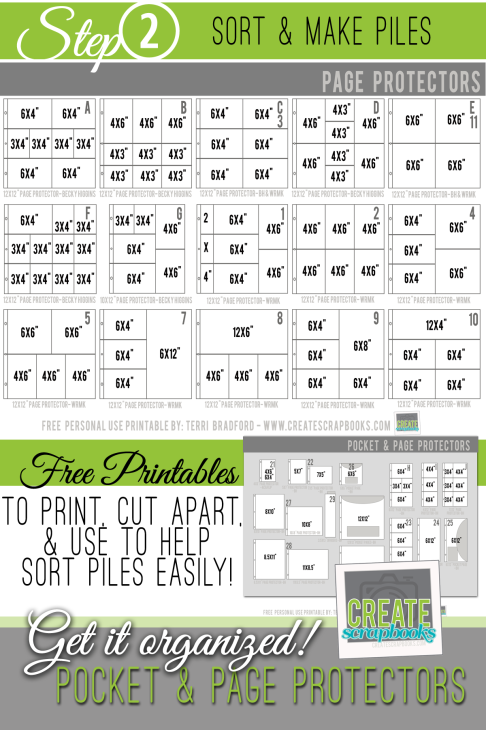 Step 2: Print these organization files I created (free!) here and use regular printer paper and cut apart each design (you won't keep these, so use less ink and print as a draft). Take the stash of all of your 3-ringed page protectors out of their packages – start organizing them by type – one type per pile – and mark each pile with a coordinating image you cut from the printables for visual reference. Note: There are 3 separate files to print (.pdf's) that are sized to 8.5×11″ to print and have lots of different options to use.  For example, "Becky Higgins Design A" pile, "We R Memory Keepers 6-4×6″ vertical" pile, "Becky Higgins Design G" pile, and so on. Tip: When you start going through the packages you'll notice it is not easy to see the divider markings and styles once you get a stack going since the page protectors are clear, so this for me creating this file and using the images in front of the pile was a nice visual and helped me organize into piles much faster. Important: Keep the original packaging under your piles for each – we'll repurpose some of the packaging in this project. If for some reason you don't have a printer or I didn't include the protector that you have on hand in the printable I created:  just do a rough sketch on a piece of paper or use the packaging image that was included with your protectors to help aid you during this process. The point is to get this part done and move on.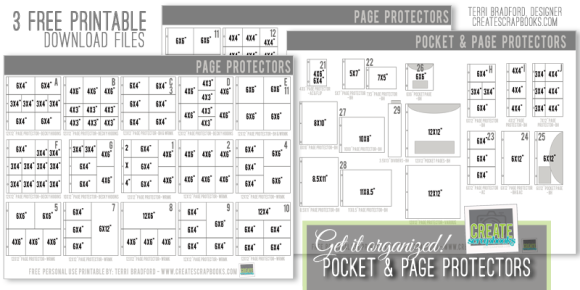 If you have the envelope-style page protectors decide if you want to keep those in their packages or distribute them out into the piles. Tip: ask yourself how you will try to access these later when you need them – will you remember you have pocket pages and look for those separately or will you want everything together with the protectors? I decided to keep them with the protectors as I will remember to USE them – which is half the battle in organization.
Now assess the damage and plan accordingly:Â What do you have? Do you have a lot of the Becky Higgins Design A and just a few other types? Tip: Jot the numbers on a post-it note, on your phone's list app, or both to keep inventory. Tip: I put the number on a post-it note on top of the pile at this point for reference later.
Step 3: Find a container, box, folder or bin to store or use an old binder – and get ready to create some simple labels. Use what you have on hand first before purchasing something new. I purchased these Mulit-Use Bins from The Container Store a couple years back (they have a big office sale each year and you can get them for just a few bucks each), and they are super handy and fit the protectors (and lots of other scrapbooking papers, etc.) too. I like that I can see through them so I know what the contents hold, yet they are uniform so they fit nicely inside my Ikea Expedit shelving, and they do not take up too much visual weight on the shelves and in the room. I LOVE these. I have way too many to stick in a binder, but if you want to use 3-ringed tabs or binders with tabs you can modify this a bit to suit your needs.
Before you add these piles of protectors into your chosen bin or binder, create coordinating labels to match your inventory to your protectors. If you are storing them in a bin like I am it is important to turn each pile so that the hole seam is at the top so that they fit nicely into the bin and so you can see any manufacturers markings clearly. I recommend labeling the outside for easy access and organization with simple tabs – you can punch some out with your file tab punches with cardstock, hand cut them, or use something else. I personally found the Martha Stewart tabs from Avery (at Staples) and the Post-It Note brand small tabs work great for this and is what I used. I also used my favorite scrapbook pens from American Crafts (Slick Writers in black/Ultimate Craft Pen) and they work great on these slick surface labels shown in the photo.
Step 4: Put everything together! I designed these printable organization sheets to help you in this stage as well. Reprint them if you desire again on nicer heavy weight cardstock (I used 100lb. white that I had on hand) on the best setting for my printer. Set these aside (don't cut them apart unless you want to) and use them inside the front of your bins or binders (either directly adhere, place in a page protector or whatever you'd like to do in your system that will work for you). Why do this? These are VISUALS to help you remember which pile is where and what sizes for photos, journaling cards, paper, etc. that you have in each binder/bin. I actually printed a set to display in the front of each of my 2 bins filled with protectors (they are clear and I can see conveniently through the front of them to reference sizes). You'll notice I have labeled (painstakingly as I carefully created the file) what the page protector design is – Becky Higgins "A" – and/or created a number for each one – this is what I wrote on my Post-It Tabs to stick onto a cardboard/chipboard divider or directly onto the page protector and placed the coordinating page protectors behind it. I also printed a second set out to set by my computer so I can REFERENCE sizes to create for photos/journaling cards, etc. in the appropriate page protector. I have found that they are handy in so many ways throughout this organization process for me.
Check out how easy this was and how good it looks (if I say so myself) afterwards – makes me excited to USE this system and keep it organized this way!
Helpful Tips:
I mentioned for you to save the original packaging to re-use because: I repurposed the original packaging and stored items within the bin that way. For me, I didn't have a lot of 5×7″, 8×10″, etc. protectors and I liked the stabilization of the Becky Higgins packs with the cardboard inserts they come with – so I used them as dividers within my bin. I did trim off about 1″ on the side to use them individually and just slipped it all back into the clear plastic packaging, attached the tab on the top and cut off the adhesive flap. Works perfect for me!
I also used one of the cardboard inserts to adhere my printed page protector sheets I created (pages 1 and 2 together) to the front of one of my larger bins. This secured the front of the larger 12×12 bin and allows me to see everything nicely on the two pages together… and it looks great and is such a help for referencing what's inside each bin. If you have a different configuration that what I have in my bins and the sheets don't match your bins you can simply cut the sheets apart, keep the styles you need, and adhere those individually to a sheet of cardstock to customize your own system, and then adhere or place the cardstock in the front of your bin. Make it work for you and custom to how you access your own supplies and make it your own.
The larger boxes of protectors (for example, Becky Higgins "Big Packs" of protectors come in a really nice box) serve as such great storage for in-progress pages, projects, storing kits to use, etc. My teenage son has actually used the back of one for a project at school. They are great… keep them if you have space and know you'll use them. You'll notice I have several different sizes of protectors and pockets in one bin (see the photo I took that shows the "above" angle). I stuck the odd sizes back into their clear packaging – some with the original cardboard insert and just cut off the tops where the flap and adhesive is so I can reach in and grab what I need but not remove the whole package – and there is not anything to catch your protectors on when you pull them out. Need chipboard to use for dividers? You could use the original packing like I've said before, or the backs of your stacks you have laying around, collected from online purchases, cardboard boxes cut to fit, or even ask your local scrapbook store if they have any "extras" that they stash away for free that come with their shipments.
That's it! Simple, yet so very effective. You can get this done in a day, or a weekend project. Honestly I am SO happy to have this task all done and it looks so very nice in my studio space. Don't you just love the function of the finished bin and the ease of seeing what you have? 
If you love your new system and this post helped you I would appreciate it if you could please share this post with your creative friends, follow my YouTube Channel here, Twitter, pin on Pinterest, or like the Create Scrapbooks Facebook page – see all the links at the bottom of this site as well. Thanks for your support!