I wanted to share this exciting news with everyone!
If you are new to
Project Life
, or want to revisit and refocus your
Project Life
process, you can
join this FREE live event featuring Becky Higgins TODAY
. If you watch it live it is free, if you want anytime access there is a fee. The schedule is November 20-22nd, 9-4 Pacific Time.
You can enroll here:
http://www.creativelive.com/courses/scrapbooking-project-life-becky-higgins
Page Protector Organization
I would like to revisit a popular post here on my blog at Create Scrapbooks – Page Protector Organization! Here's my system and the original post link – with FREE download files to print, organize, and get things DONE!
Create Scrapbooks Project Life Video Series
Also, if this is your first time here on my blog, I'd like to introduce you to the Create Scrapbooks YouTube Channel at http://youtube.com/createscrapbooks. I have been sharing my scrapbooking kit club boxes with my "What's Inside" videos, and also like to create and put together my Project Life layout spreads with a variety of Becky Higgins Project Life kits, and popular scrapbooking kit clubs exclusive products as well, and have a Project Life video series as well.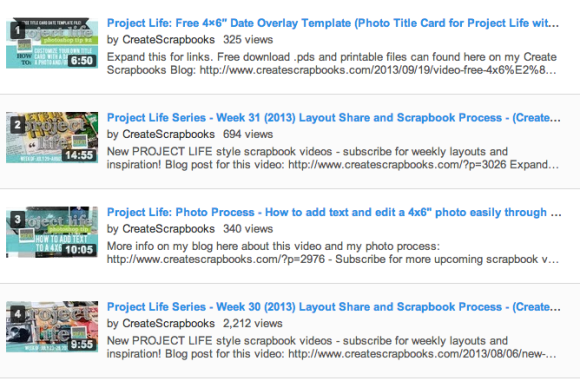 I also cover some Photoshop tips and organization – with bonus FREE downloads as well to help you get things created and simplified.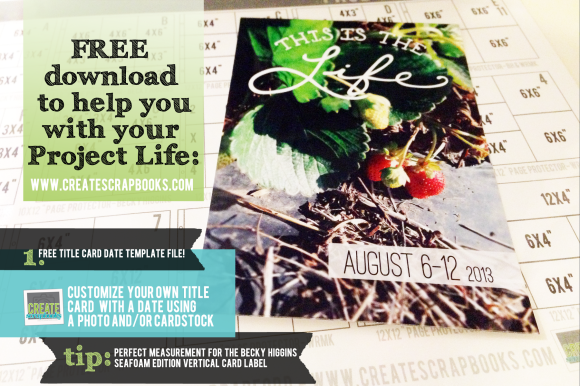 Hope to connect with you and inspire you to create with me!