Hi everyone!
This is Terri Bradford from CreateScrapbooks.com, and here's the latest video (showing Week 33) on my Project Life scrapbooking video series on YouTube here: http://www.youtube.com/user/CreateScrapbooks.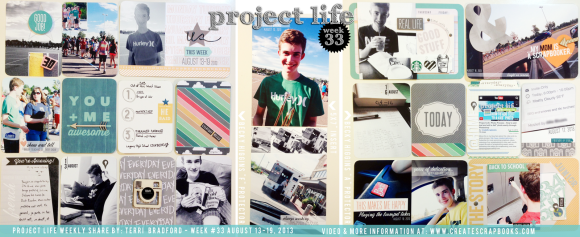 Create Scrapbooks Video -Â Project Life Series – Week 33 (2013) Layout Share and Scrapbook Process.
My notes from this week on supplies I used: I am STILL loving that I am using my latest Scraptastic Kits (especially the "This Life Noted" PL Style one), Gossamer Blue (especially their "Life Pages" PL Style kit) along with my Studio Calico (PL), Elle's Studio (Papercrafting/emebellishment kits). The list is below of all the supplies/links to the clubs and more info.
I decided to add a 5×7″ Becky Higgins page protector again this week right in the center of the full 12×12″ F & A page protectors to expand my photos and journaling. It helps to have these types of protectors to accommodate the over-flow (and/or orientation) of photos and journaling elements. As usual, I like to edit in Photoshop to fix any lighting/exposure, and add dates/titles before I print. My printer is a small format that prints either 5×7″ or 4×6″ and it makes those simple enlargements easy for me to do at home. Love that! (You can click on the above photo to see a closer look at the layouts.)
Notes on my Week 33 photos/layouts:Â Definitely an account of how busy things get and everyday things my family does during a typical August week: work, marching band, Starbucks trip, summer AP homework and getting ready for the school year for my son. Still worth documenting the bits and pieces that make up our lives… routines and all!
Stay tuned for the next video (Week 34 – or I may just skip to December project life spreads to mix it up and work backwards!) I am in the mood to scrap with my newest December kit supplies!
Supplies and other information from this specific video:
RELATED VIDEOS & LINKS:
Project Life: Free .psd 4×6″ Date Overlay Template (Photo Title Card for Project Life with Date) can be downloaded at: https://createscrapbooks.com/2013/09/19/video-free-4×6%E2%80%B3-date-overlay-template-photo-title-card-project-life-date-digital-psd-photoshop-elements-file/
Create Scrapbooks Project Life Series – WEEK 30 (1st video of this series): http://youtu.be/oL-L1BIFAZQ
Create Scrapbooks Project Life Series – WEEK 31: http://youtu.be/egyRY49WKBQ
Create Scrapbooks Project Life Series – WEEK 32Â  (previous week to this video): http://youtu.be/eoBPdSsUGm4
Project Life: Free 4×6″ Date Overlay Template (Photo Title Card for Project Life with Date) tutorial in Photoshop video: http://youtu.be/exRREnCWQzo
Project Life: Photo Process – How to add text and edit a 4×6″ photo easily through Photoshop: http://youtu.be/bV0empzUbxc
Thanks to everyone who has stopped by, downloaded a file or two, sent a message or made a comment, subscribed to my YouTube channel, and has connected with me during the scrapbooking journey! Much creative love to you all.