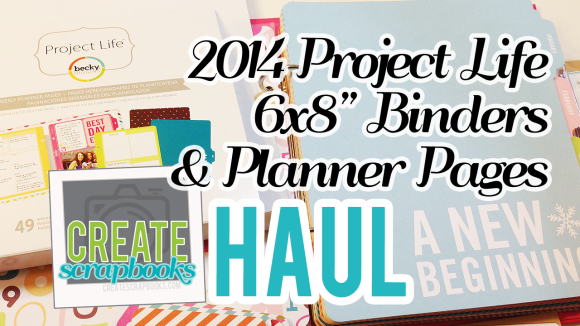 Hi Everyone!
I picked up a few NEW 2014 Becky Higgins Project Life 6×8″ Albums & Planner Pages this weekend at a local Michael's store. Yay! I wanted to show you the contents of the Becky Higgins Project Life Planner Pages and the binder album as I opened them and put together the planner (see the video below). Hope this helps you decide whether or not to purchase this based on your personality, purpose, and expectations.
I use both my iPhone and a paper based physical planner every year and think this will work fine for my needs. The planner pages inside the album does fill the album, so there is really not much room for pocket pages and inserts, but as the year goes on and you remove pages it would free up space. My album's binder rings (as shown in the video) did not line up correctly and my pages are snagging (even though they have the phrase "snag-free" on the actual binder inside). I am sure this is just an isolated incident and am not sure if I will end up returning it, but overall I am happy with the quality of the binder for my planner purposes.
The planner pages and binder retail both at $14.99 each. I used a coupon on both items, and picked up some clearance Simple Stories Sn@p pocket page protectors (the 6×8″ page protector line fits perfectly and is the same style as the Becky Higgins protectors, but they are currently on clearance so I picked those up instead to save some money). The
Becky Higgins protectors
retail at $4.99 for a pack. So, definitely browse the Sn@p section at your Michaels and score the other items that fit these size of binders on clearance while you are picking yours up!)
Watch the video directly on YouTube at this link: http://youtu.be/E75u4XK6WwU
Thanks for watching and subscribing!
Note: Make sure you print out the Pocket Page Protector Organization sheets I have available: Create Scrapbooks – Get It Organized – Print this FREE organization file and use them along with all of the free Create Scrapbooks Organizational systems to get your pocket and page protectors organized!
1 – 8.5×11″ printable that coordinates with the Project Life & Simple Stories 6×8″ style of pocket and page protectors (5 styles). Cut them apart or leave them as a whole sheet to help you get organized. There are 3 more sheets of free printables (larger sizes) in our shop – make sure to add them all to your cart and use them in coordination with this new sheet I created.
Make sure to subscribe to the Create Scrapbooks YouTube channel here to see the kit contents each month in your YouTube subscription feed (as well as Project Life series weekly videos, and more!)