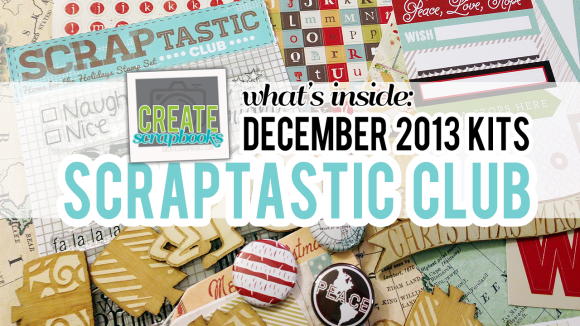 Create Scrapbooks "What's Inside" Video – Scraptastic Club
(
Want to view the above video on YouTube to see it larger? Here's the direct link:
http://youtu.be/zMbCBdwbuDY
)
Scraptastic Club December 2013 Kits
Just a personal note on how I used a few stickers in this kit for holiday wrapping:
I used stickers to QUICKLY decorate a gift bag for a gift card (hanging around the cute Hallmark plush puppy's neck with a chocolate German nutcracker attached as well from World Market) – the stickers are from the Scraptastic Scrapbook Club December Home for the Holidays kit. It is so nice to have things on hand to make an ordinary gift something special. It's never too late to pick up a great holiday kit as I keep things for years and use them year after year… especially these timeless and classic holiday designs in the kits! Plus, I have yet to even print my holiday photos and scrap them, so I will be using more of this kit soon and will share here when I do.
Want to see the latest kits through video each month? Make sure to subscribe to the Create Scrapbooks YouTube channel here to see the kit contents each month in your YouTube subscription feed (as well as Project Life series weekly videos, and more!)