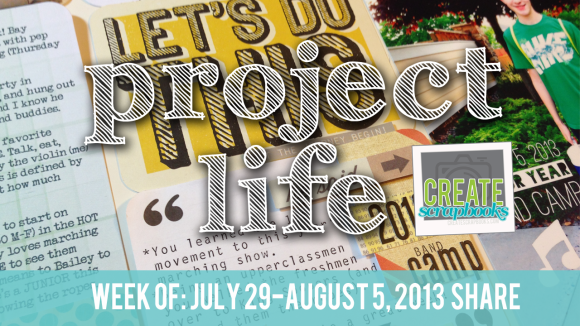 Hi everyone!
This is Terri Bradford from CreateScrapbooks.com, and if you missed the last video and blog post – I started my own Project Life scrapbooking video series on YouTube here:Â http://www.youtube.com/user/CreateScrapbooks.

Here's the second video of the weekly series I created -Â Project Life Series – Week 31 (2013) Layout Share and Scrapbook Process.
I hope you subscribe and comment so we can connect. Click on the little red subscribe box, comment under the video (or here on the blog) and tell me what inspires you.
Here are some closer photos of the weekly spread, each side, out of the page protectors (click to view even larger):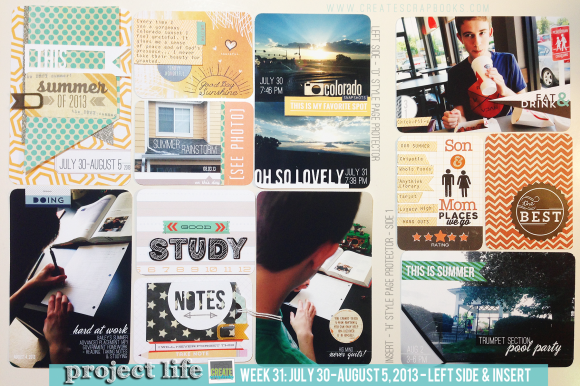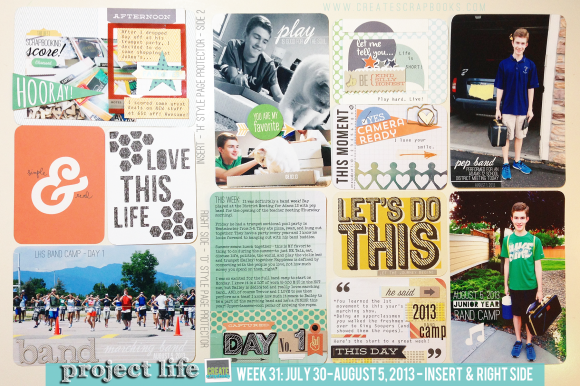 My notes from this week: I am *loving* using the July and August Scraptastic Kits, along with my Studio Calico, Elle's Studio, and Paper Posies Kits in the mix. Makes things so much easier to open a fresh exclusive kit and put elements easily together for Project Life spreads. I decided to add an H 6×12″ Becky Higgins page protector right in the center of the full 12×12″ D protectors to expand my photos and journaling this week. It helps to have these types of protectors to accommodate the over-flow (and/or orientation) of photos and journaling elements.
As you can see, even during the summertime my small family has STILL been knee-deep into high school happenings for my son… like marching band, AP classes (and me toting around my teenager to/from school, etc.) Summer went WAY too fast this year. My son is a Junior now and I am trying to get a few of the last week's of summer Project Life layouts completed. Those will be coming up next in the video series.
Thanks to everyone who has stopped by (excited to see my friends from Germany, Australia, Canada, and more!), downloaded a file or two, sent a message or made a comment, subscribed to my YouTube channel, and has connected with me during the scrapbooking journey! Much creative love to you all. See you next week (or sooner) with week 32.
Supplies and other information from this specific video:
Exclusive 3×4″ and 4×6″ exclusive Studio Calico cards and embellishments: Studio Calico Project Life Kit (Becky Higgins) – www.studiocalico.com
Exclusive stamps, 3×4″ and 4×6″ exclusive Scraptastic cards, die cuts, and embellishments: Scraptastic Club This Life Noted PL Kits and Monthly Kits – www.scraptastic.com
Paper embellishments: Elle's Studio Monthly Kit – www.shopellesstudio.com
Thickers (Sketchbook Charcoal) and Fancy Pants bag/tag combo from Paper Posies Kit – www.paperposies.com
Other Embellishments: October Afternoon star die cut and washi tape, Thickers (Amy Tangerine – White Everyday Chipboard), Prima Camera Paperclip, Theresa Collins He Said She Said die cut sheet, Basic Grey Hipster sticker sheet and transparent elements/die cut pack, Studio Calico wood veneer heart and camera.
Photos and other design elements: Adobe Photoshop, Over App, iPhone 5, Adobe Photoshop Express App, HP Photosmart A646 printer, HP Advanced Photo paper